responsibilities
ux / ui design
Lucky Dog Clothing is a popular vintage clothing store based in Seattle, Washington, that curates premium streetwear and designer fashion. For this project, I redesigned Lucky Dog's current website to include e-commerce functionality and consistent visual aesthetic.
PROJECT GOALS:
Easily purchase items online


— The current website does not handle any e-commerce transactions, so customers can only see products and make purchases in-store.



Schedule appointments


— Customers currently have to call or message the store via Instagram to book times for buying/selling/trading appointments.



Show new in-store items


— Lucky Dog relies on Instagram stories to showcase new and upcoming products. However, this restricts visibility for customers who are not active on the platform, and the story vanishes after 24 hours.
Although they offer buying, selling, and trading services, there is no e-commerce functionality on the website, or any option to schedule appointments online. When viewed on desktop, the website pages appear narrow, but for mobile, fills the entire screen.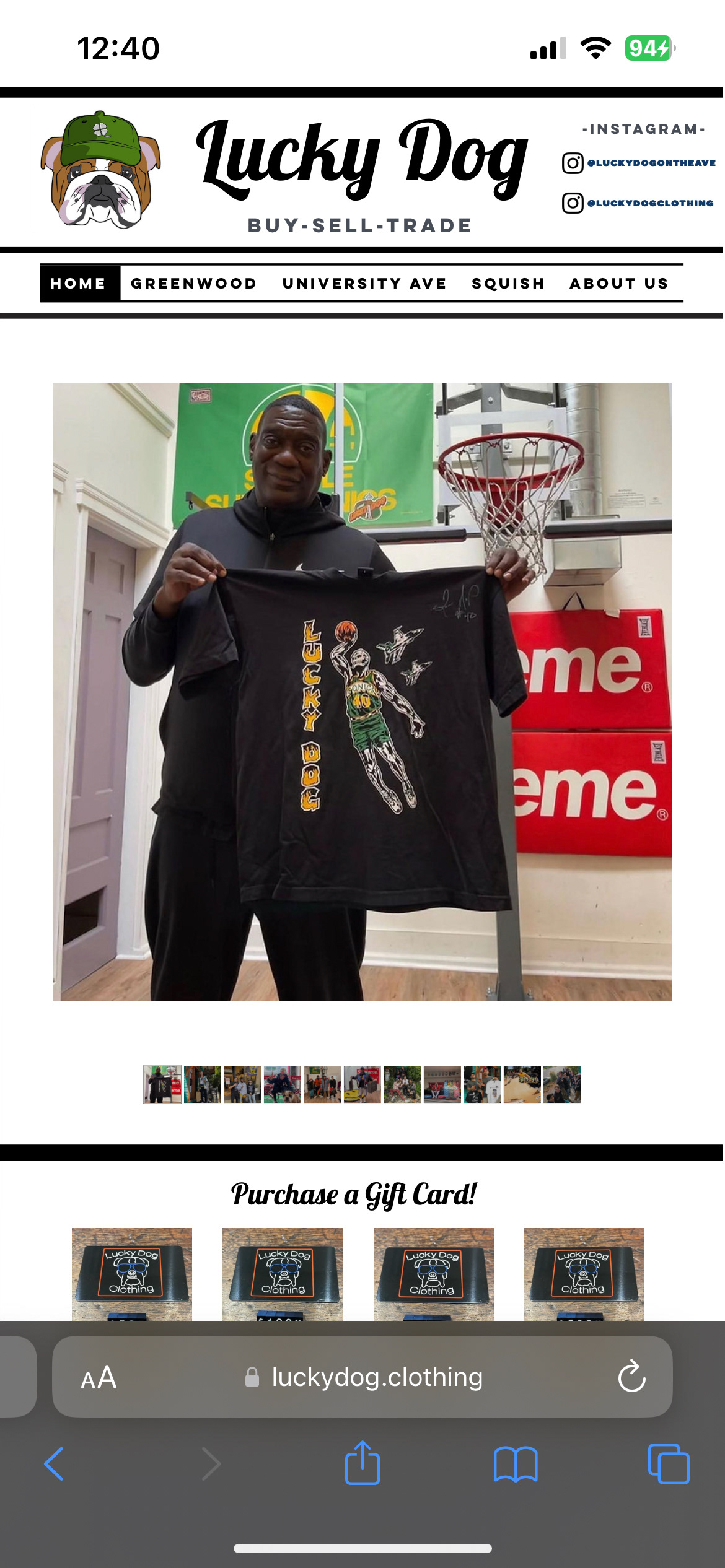 When thrifting, online especially, customers want to know what they're buying and want full transparency on the item's condition. For the Lucky Dog customers who can't make it in-store, they'd want to be able to see what items are in stock. 
To better understand what users/customers needed, I asked participants about their experiences with:
— online shopping
— shopping with Lucky Dog
— thrifting/trading/selling clothes
— thrifting/buying used online in general
Other thrift stores have e-commerce features integrated into their websites, as well helpful imagery, and features that foster a sense of community. I also looked at non-competitor sites to view their product pages and appointment booking systems.
After synthesizing the information from user research, I developed two personas: Jason the busy, but frequent shopper, and Carter, the seller and trader. Both are ideal customers of Lucky Dog Clothing with unique wants and needs.
Jason needs a way to

confidently thrift online

 because 

many used clothing platforms lack transparency, & due to his busy schedule, he is unable to shop in person. ​​​​​​​
Carter needs a

more efficient process of selling & trading with thrift stores

 because

the current process takes significantly longer than expected, with no guarantee that his items will be accepted.
The structure of Lucky Dog Clothing's new website should be intuitive for their customers and allow them to easily shop and book at either of their locations.
After determining the overall site structure, and gathering inspiration, I sketched the layout for homepages for each location, product pages, appointment booking pages, as well as checkout pages and confirmations.
1. Large splash/hero images carousel to showcase their store and famous customers.
2. Shop by staff favorites and see how other customers style their pieces. Lucky Dog Clothing blog to foster a sense of community.
3. Easily schedule an appointment to sell or trade clothing/items. 
location-specific homepage
1. Homepage for each Greenwood & University Ave Locations
2. Store image, address, and contact information.
appointment scheduling


1. Choose between a selling or trading appointment.
2. Set time & date, upload images of items that you're bringing.
​​​​​​​
3. Brief description for items for further clarification & communication between seller
& store.​​​​​​​
1. Cost breakdown and visual summary of items in your shopping bag.
2. Add a Lucky Dog giftcard to purchase. 
​​​​​​​​​​​​​
descriptive product pages
1. Product images to communicate condition of the item to the customer.
2. Item description, materials & care to provide transparency & confidence to the customer.
​​​​​​​
3. Recently viewed items for easy browsing and convenience.